​Southeast Asia Exhibits and Galleries
A Hundred Harvests: Th

e History of Asia

n Studies at

Berkel

ey
An online record of an exhibit of the same name held in the Bernice Layne Brown Gallery, Doe Library, University of California, Berkeley from June 10, 1997 to February 1, 1998, A Hundred Harvests chronicles and illustrates more than a century of teaching and research in the field of Asian studies at Berkeley. The exhibit's story follows Berkeley's Asian studies courses and programs focused on Asian language, literature, and history through their beginnings soon after the university's inception to today, when Berkeley's Asian studies institutes, departments, and collections rank among the countries finest.
The Power of Patterns: Double

Ikat

for Textile Exchange in India and Indonesia
The Power of Patterns is My Chau's honors thesis slide presentation exhibited ion the 2nd floor of the Doe Library from December 2, 2008 to December 11, 2009. It "highlights two distinctive types of textiles produced by tie-dying the warp and weft threads before they are woven, hence "double ikat": Patola in Gujarat, India and Geringsing in Bali, Indonesia.
Chinese Overseas: Challenges and Contributions
Chinese Overseas was an exhibit in the Bernice Layne Brown Gallery, Doe Library, University of California, Berkeley in the fall of 2002. Dedicated to former UC Berkeley Chancellor Chang-Lin Tien (1935-2002), the exhibit was a product of co-sponsorship from five Berkeley libraries - The Bancroft Library, the Center for Chinese Studies Library, the East Asian Library, the Ethnic Studies Library, and the South/Southeast Asia Library.
Southeast Asia Exhibits and Galleries Beyond Berkeley
Finding Aid to Vietnam: Journey of the Heart, 1985-2000
From the abstract of this collection: "Fifty-two color photographs by Geoffrey Clifford depicting the people, culture and urban and rural landscapes of Vietnam between 1985 and 2000. These photographic prints constituted an exhibition organized for travel by the Smithsonian Institution Traveling Exhibition Service (SITES)."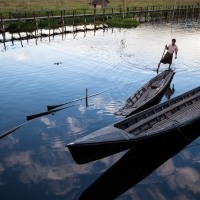 Matteo Vegetti Myanmar Gallery
Matteo Vegetti's Myanmar gallery is the featured here, but his website offers many more (for Southeast Asia studies, specifically, his Far East gallery may be of interest). About his Myanmar gallery, specifically, he says "Myanmar is changing at an incredible speed: once a locked up state, nowadays thousands of foreign investors are flocking the country reshaping the burmese lifestyle. Far from stereotypes this gallery presents a glimpse of daily life that will probably disappears in the coming years."