Japanese Collections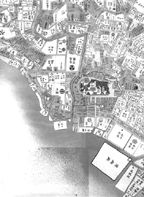 Hayashi, Yoshinaga. Tenpo Edo Oezu (Map of Edo). Zoho Edo oezu : saru sangatsu aratame gomon eiri. [Kyoto] : Hayashi-shi Yoshinaga, Enpo 8 [1680]. 1 map : hand col. ; 123 x 150 cm., folded in cover 26 x 19 cm.
In 1952, East Asian Library acquired 2,300 maps from Edo and Meiji eras. Shown here is an example of Edo (Tokyo) map.




---
Akutagawa, Ryunosuke, 1892-1927. Haha. Manuscript of Ryunosuke Akutagawa's short novel, Haha. Akutagawa Ryunosuke, a star short story writer of contemporary Japan wrote this story "Haha (Mother)" for a leading literary journal "Chuo koron."






---
Eiga monogatari. Publisher and date unknown.
"Eiga monogatari (A tale of flowering fortunes)" is a historical tale of the 11th century. The first 30 chapters are often attributed to Akazome Emon, and the last 10 to Idewa no Ben. It is the first historical work written in the Kana syllabary. It is also the first of the rekishi monogatari genre, which are fictionalized or embellished accounts of historical events and figures. Eiga was translated into English by Berkeley's professors, William H. and Helen Craig McCullough.




---
Kitao, Masayoshi, 1764-1824. Edo ichimoku no zu (Bird's-eye view map of Edo). 1 map : mounted on linen ; 39 x 57 cm. A view of Edo (Tokyo) from the east. Until Meiji Restoration, and long after that, the center of activities was on the east side of the Shogun's Castle (now the Emperor's Palace.)
---
Yosano, Akiko, 1878-1942. Myojo sho. Tokyo: Kaneo Bun'endo, 1918. Japan's noted poet and feminist writer, Yosano Akiko, published her first volume of poems "Midaregami (Tangled hair)" in 1901. It contained nearly 400 poems of passion and sensuality and was enthusiastically received. Shown here is another of her bestseller "Myojo sho," her handwritings were copied on to the beautifully produced papers.


---
Ozaki, Koyo, 1868-1903. Konjiki yasha. Tokyo: Shun'yodo, 1898-1903. Ozaki Koyo's last and best work, "Konjiki yasha (tr. The golden demon)," perhaps the most popular Meiji novel, which generated plays, movies, and songs. Shown here is the original illustration of the most famous scene which the western clothed hero (Kan'ichi) is kicking away the heroin (Miya), somehow symbolizing Japan in transition at that time.
---
Fushunken, Senkei. Book of Rikka Style Ikebana from Edo Period. Rikka hiden sho. Koto: Gyokuchisai, 1684. Rikka style Ikebana these days are rather small, but in old days, they were as large as 2m tall. There were full of freedom and imagination in creating these arrangements. Very modern, if the word means anything. Woodblock printing with hand colors.